Patio heaters that are high-quality will not only keep you warm when the sun sets, but also add beauty to your yard.

If you enjoy socialising outdoors, these heaters can be a great option.

There are many options available, including tabletop, wall-mounted, and free standing. Which one is right for you?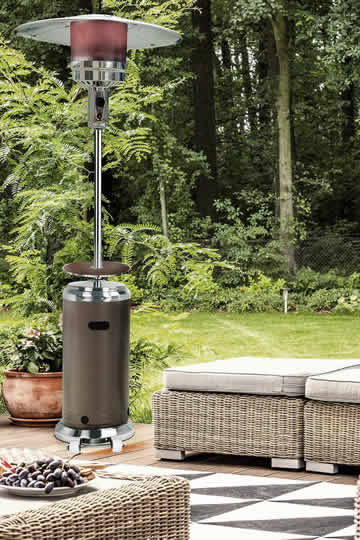 Propane, electricity, or natural gas are all fuel options for patio heaters.

There are a number of options available, including fuel type, size and shape.
Finding the Right Patio Heater
There's an outdoor heater for every porch, backyard, patio or deck, no matter what your budget.

Make sure your portable heater meets all your needs before you buy. There are many styles and sizes available, so it's important to choose one that is both functional and beautiful to look at.

How to select the right patio heater for you:
Patio or Porch Size
You won't need the largest heater if you are adding warmth to a small porch.

And not every home has the proper indoor/outdoor space for a standing heater. Among the tallest models is about 7.5 feet, which is not exactly what you'd call compact.

So measure carefully before you decide on which model you're going to buy.
BTU (British Thermal Units)
This is the official measurement for all heating appliances. The higher the number, then the greater the temperature potential.

Tabletop heaters typically produce 10,000 to 12,000 BTUs. Larger heaters can blow heat into your outdoor space with up to 40,000 BTUs.
Heater types
There are a number of patio heater types available:
Free Standing: The best patio heater for large spaces is the free standing model. They usually consist of a base, heat reflector, and a pole.
Mounted: If you don't want your heater to be the focal point of attention, these heaters will work better. These heaters are meant to be placed in discreet locations, such as on a wall or near the ceiling.
Tabletop: These are smaller than their free standing and mounted counterparts and much more portable. These are usually electric and can be found in many different styles.
Infrared: These heaters are very energy efficient. This is the best way to save energy. Although they are not particularly portable, they heat quickly and are ideal for families that have small children.
Heat Sources
There are three main heat source types to power these heaters.
Electric: While electric heaters are certainly the most convenient, they tend to be less efficient than natural gas or propane. You'll need to exercise good energy-sense with this type of heater, or you could see your electricity bill soar uncomfortably high.
Propane: This is the most common option. It heats up quickly and is very popular. Free standing heaters are often fueled by propane gas.
Natural Gas: Natural gas-powered heaters are the cheapest and most efficient, clean-burn option for homeowners. They are ideal for outdoor use.
Safety Features
The best outdoor heaters for families with kids are those that have well-defined safety features.

Look out for features such as cool-touch glass, tilt-over protection and automatic shut-off valves when you shop. Because there are no flames, infrared heaters may be a good choice for families.
Which is the Most Sustainable Patio Heater?
An electric patio heater is the best option if you care about the environment. Electric heaters have a smaller carbon-footprint than gas heaters which produce more CO2 than electric models.

An infrared patio heater is a great option if you are looking to be even more environmentally-friendly. They heat the surrounding area with radiation and use 100% of the heat that they produce.

It is of course possible to be more environmentally friendly by using your patio heater only when it is needed and not heating on too high a setting when it's not necessary or it's not too cold outside.

Posted: August 19, 2021