Are you determined to buy a new AC and are looking for a smart portable air conditioner with WiFi app? Here are our top picks of what's available on sale online now!

There are some great models you can buy from online stores that take the concept of convenience to a whole new level!

Let's look at what this new breed of clever cooling appliance is, how they work and why you would want one.
Why Do You Want a Smart Air Conditioner?
A surprising number of people live in smaller homes or apartments where it actually makes more economic sense to opt for smaller, portable air conditioning units that can be moved from room to room as needed rather than run a big, energy gobbling central AC.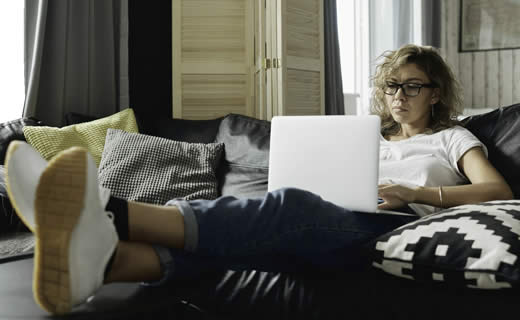 If that's you, then you likely have already decided on this format of cooler for your home. You can use these for spot cooling and to extend the cooling ability of an existing house-wide system.

You can also use them as stand-alone coolers for use only in the rooms in your house that you actually spend any time in, such a living room or bedroom. In that case, they can work out a lot cheaper to run than central air because they're only cooling the space that actually needs cooling!

Of course, you have doubtless already decided that if you're going to buy a new portable AC, it might as well be the absolute best, top of the range WiFi-ready model you can afford
A Smart Upgrade
It is still possible to but conventional portable AC units and they come in different sizes and power ratings. Most models come with a remote control for operating them from the comfort of your armchair.

However, fiddling with a remote is so outdated! Especially when there are more technologically advanced versions of these coolers that don't even need a remote to operate them remotely.

As long as you have WiFi in your home, like just about everybody does, you are good to go with a smart AC unit on wheels!
How Smart is Smart?
It is possible that at this point in time, you have absolutely no idea what I'm describing right now. But don't let that worry you or put you off.

I'll explain things as we go along. I'm guessing you're pretty curious about this new smart breed of cooling device and you want to know more about it.

Let's launch this by letting you in on the currently worst-kept secret in the world of air conditioning.
What is a Smart Air Conditioner?
If you think of smart devices that can are controllable by an app on your phone of tablet. For example, smart:
TVs
Cookers
Microwaves
Refrigerators
Dishwashers
Washing machines
All these devices can be programmed to do whatever using an app on your phone from wherever you just happen to be at the time and as long as you have a network signal or WiFi connection.

Well, how about adding smart air conditioning units and even whole systems to the above list of programmable appliances that will obey without question the digital commands of a phone app sitting conveniently in your hand.

That means even portable AC units can be WiFi connectible and therefore controllable via that app!

You can now program a portable air conditioning unit to start itself up and run at certain times for however long you want them to run for. You can get them to turn themselves off again at other times.

You can change the fan speed and modify the thermostat setting to whatever you want it to. It's just like having total control along with full monitoring ability right there in your hands.

The best part is you don't need to be at home. You can program your unit from wherever you are with a modern, all-singing, all-dancing phone!
How Does a Smart Air Conditioner Work?
Unless you're super-tech minded and need to know the nitty-gritty ins and outs of advanced computer programming and software, suffice it to say that these appliances work just like most other ″smart″ devices.

Naturally, they possess an on-board computing chip that allows their operating system to connect to your home's WiFi. You essentially connect your AC to your home smart network along with computers, phones, tablets, TVs and all the other appliances that work off the same wireless network grid.

To enable the remote programming and monitoring capability, you get a dedicated app from the device's manufacturer. That app contains all the clever controls and functions you need to get the job done.

Once the app is downloaded and installed on your phone (or tablet), you are free to tinker with its functions and tell your AC unit to do what you want it to do. Just don't expect it to make the tea...

That's what you bought that smart cooker for, isn't it?

OK, so now you know what it is and have an idea of how it works. You want one, I guess.
Which is the Best Smart Portable Air Conditioner to Buy?
Now we need to work out which model is the best one for your needs. There are a few well known portable AC unit manufacturers that also make high quality, smart models.

The best of these are the ones I will recommend here.

Just a heads up: Smart AC units make use of what is quite new technology, which means they will be a little more expensive to buy than their non-WiFi enabled equivalents. For most people this won't be a problem, because once you're mind is already made up that you want one of these, the small increase in proce is not going be an obstacle from you getting one!
My Smart Portable Air Conditioner Reviews and Recommendations
Below are my two top recommended models. I have linked to the product pages at Sylvane, one of the best electrical appliance stores and the one I recommend for all air conditioning, dehumidifying and purifying appliances.

Note: As a Sylvane affiliate I earn from qualifying purchases.

De'Longhi Pinguino 4-in-1 Smart Portable Air Conditioner
One of the absolute best Wi-Fi ready portable air conditioners that I know of is the 4-in-1 unit from popular manufacturer De'Longhi.

It's perfect for providing cold air in summer and as an added bonus it also provides warm air in winter!

Here you have a compact yet powerful 12500 BTU unit capable of cooling down (or warming up) a room up to 500 sq ft. Being a multi-function AC with heat, it's an amazing indoor climate management system all in one unit!

The 4-in-1 features are:
Cooling
Heating
Dehumidifying
Fan-only
Each one of these modes is controllable and programmable for all-year round comfort.

It incorporates De'Longhi's exclusive ECO Real Feel technology, that provides a superior level of comfort, balancing temperature and humidity for the most agreeable indoor atmosphere.

Easily connect to your WiFi with the unit's smart WiFi function. This makes it ready to be fully controlled with Alexa or Google Home devices or from a phone app giving you flexibility and controllability the way you like it.

The AC unit can easily be programmed to perform functions from simply turning on and off when you want, to setting the temperature, the power setting and fan speed to provide you with the perfect climate while you're at home. It's also great for saving energy by turning it off when you're not there.

It also incorporates a BioSilver filter for providing you with cleaner air while simultaneously helping to prevent mold and mildew forming on the filter to reduce odors and to eliminate toxins in the air.

Can it get any better?

YES!

The De'longhi also incorporates no-drip technology. That means it automatically recycles condensation that forms inside the unit, using it to improve efficiency and prevent leaks.

It is a fully self-evaporating air conditioner, meaning that it will not need to be drained periodically as conventional portable AC's do.

It just so happens that I know of where you can buy this smart cooler online right now. Click the image above and visit Sylvane, one of the top electrical stores (and a top destination for it's great after-sale service) where this device is currently on sale at a great price!
LG 14,000 BTU Dual Inverter Portable Air Conditioner with Wi-Fi
If it's a powerful, smart air conditioning unit you want that is stamped with a brand you can trust, the LG 14,000 BTU Dual Inverter model is the one.

This powerhouse will easily cool up to 500 sq ft and it is WiFi enabled for full remote programmability and control from your phone wherever you are.

This quiet and powerful cooler features multiple operating modes that include dehumidification making it perfect for creating a comfortable indoor environment wherever you want it.

To access the full functionality of the WiFi accessible cooler, simply download the SmartThinQ app to your phone or tablet from iTunes or Google Play, depending on your phone and connect the LG LP1419IVSM to your device.

Once you're connected, full control of the unit is yours from anywhere you happen to be. You can set the temperature, create an on/off timer schedule, set the fan speed, change the operating mode and a whole lot more!
Four Operating Modes:
Dry Mode: Dehumidification can remove up to 6.8 pints of excess moisture per hour
Auto Cool: Set the room temperature you desire and the unit will achieve it
Fan Only Mode: For times when you don't need full AC, you can create a circulation of fresh air using the 4-speed fan
Sleep Mode: The unit runs with the lowest fan speed at a super quiet 44 decibels for undisturbed rest
This cooler comes with its own window fixing kit for easy installation of the exhaust hose to a window outlet for correct ventilation.
Fully Self Evaporating AC
It also features self evaporation technology that evaporates the moisture it collects and exhausts it out through the vent hose to the outside.

However, in dehumidification mode in particularly humid environments, it may collect more moisture than it can exhaust. In such a case, excess water is collected in an internal bucket that has a water full indicator to tell you that it needs to be emptied.

What really seals this deal is the WiFi connectivity and the ability to control and program this unit from wherever you are via your phone app. Plus with its multiple operating modes and powerful cooling ability, this is one of the best smart portable air conditioners in its class!

You can buy this smart air conditioner from Sylvane and get a great deal with great after-sales service.

Click (or tap) the image above to open the product page at Sylvane where you can view this amazing smart AC unit and read all the detailed information including the surprisingly affordable price along with free standard delivery.

If you want to know some more about these smart devices, please read on:
Remember to Let Them Settle
Another heads up: New air conditioners need to be left to sit for two hours or so before you turn them on. That's because the contain a special refrigerant gas that gets shaken a round during delivery and needs to settle to allow any bubbles to dissipate.

After two hours, you're good to go. This seemingly minor but important step will ensure you enjoy the best performance from your new cooling appliance.

I wanted to make that clear because I often hear of new AC owners that were too impatient to wait. They turned their AC on as soon as they got it out of the box and then got angry when it didn't work as well as they expected.

Some even end up returning what is a perfectly good unit!

Please don't be that person!

Make sure you let the unit sit still for just a couple of hours to let it settle. You can put that wait time to good use by reading through the user manual to acquaint yourself with how it works and also install the window fixing kit, so it's ready to go and start cooling you down without issue!
Connecting a Smart WiFi Air Conditioner
What's so great about WiFi is that it enables smart devices to connect to your home's wireless network as well as to the Internet. This is something that you will probably already have set up using a home computer, laptop or tablet/phone.

This network connects your laptop/computer to a tablet and phone as well as to a smart TV, fridge, dishwasher and all the other WiFi connectible devices in the home. It also hooks up with your new air conditioner!

If you own a device like Alexa or Google Assistant, they can be used to control your AC even when you're not there. For example, your AC can be turned on to coincide with your lights turning on just as you are coming home from work or from the store.
How to Control a Smart Air Conditioner with a Phone
Each smart air conditioner manufacturer has developed its own phone app that will work with your phone or tablet, whether it is an iOS or Android device or uses another mobile operating system. You simply download, install and then and use the app to control your AC device remotely, following the manufacturer's instructions.

These units generally incorporate automated WiFi connectivity, automatically activated when the device is turned on.

With the app installed on your phone, just follow the instructions provided and you're ready to personalize the settings as you prefer.

The manufacturer will have made sure their app is as simple as possible for people to use, so don't worry if you don't think you're a tech-minded person. If you can work your phone, you'll be able to work the app!
What Does the BTU Power Rating Mean?
Before buying a certain AC model, it's useful to know how much cooling power you will need in your home. That will coincide with the dimensions of the largest room you want to cool, in square feet.

Power output of heating and cooling devices is measured in BTUs (British Thermal Units). The bigger the number, the higher the power output. To get a general idea of how much power is needed to cool a room, a 14,000 BTU device will cool a larger room up to 700 sq ft, while an 8,000 BTU cooler will only cool up to 350 sq ft.

More information can be sourced at the Energy Star website here: https://www.energystar.gov/products/heating_cooling/air_conditioning_room

Last Updated: Mar 16, 2022



[Back to Top]