When you have limited space in your home or apartment, buying the smallest portable air conditioner can be a great solution that packs a big chill factor punch!

Whether you're looking for a fixed or portable device, you need something that comes in a very small package that costs less but still provides all the coolness you want and need. Well, read on.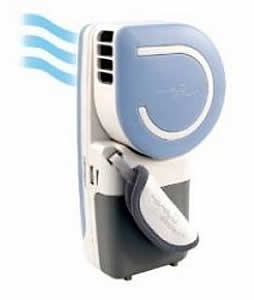 There is a great selection of smaller sized portable AC units on sale these days to cater for the needs of those who simply don't need larger units and don't have the space for them in any case.

This article takes a look at the smaller side of the air cooling arena and the best of the smallest devices to keep you cool on a hot day (or night).

To help you make the right choice for your needs, we check out some really compact units and present what's available to buy online at the best prices. If you decide you want to have one to keep you cool during the hotter months of the year, you're in the right place!
Things to Consider
Before you make a decision on an air cooling unit, remember there is one major difference between the two main types.
The smallest units and handheld devices are all evaporative (swamp) coolers. They are very cheap to run but work best in hot dry conditions. However, when the humidity gets high, they're not as effective and the more expensive to run regular air conditioning unit may be a more effective climate controlling choice.
True air conditioners are larger, bulkier and use a lot more energy to produce cold air. The upside is they work in all climates and actually dehumidify the air, creating a more comfortable coolness in humid climates.
The two main kinds of interior air chilling solutions are explained below. That way you will know what you're getting into before you choose to get out your credit card and make a commitment!
Air Conditioner versus Swamp Cooler
The two main forms of air cooling device popularly on sale today are the conventional air conditioners which use refrigeration technology to chill the air that passes from the unit and the evaporative (swamp) coolers which use cooling by evaporation to chill the air. Each has its merits and drawbacks as we shall see.

Often, the very smallest coolers offered on sale by all the major stores are evaporative/swamp coolers. This includes the handheld coolers like the one pictured above.

The main reason for this is that these types of cooling devices have very little internal mechanics, so are capable of being manufactured in very compact and lightweight housings. It must be remembered that these are NOT air conditioners and should not be expected to produce anything more than a light, cool breeze for cooling you personally and not cooling a room (even a very small one).

True AC contains heavy mechanical components and that's why even the most compact portables are still fairly large and weigh 40 pounds or more.
Compare the Two Main Types of Air Cooling Device
Let's compare the two different small, free standing air cooling solutions that are available for homes and offices, starting with AC:
Air Conditioners
Most people get an image of a refrigerating device that blasts out very cold air when they think of air cooling units. For cooling a room of just about any size quickly and to a comfortable temperature no matter how hot it might be outside, AC is without a doubt the king.

However, the convenience and power of this type of air cooler comes at a price. The units are relatively expensive to buy and they are expensive to run.

Larger units can use a lot of electricity to keep a room cool. Their internal mechanism use atmosphere unfriendly gases such as CFCs (for example Freon gas) and materials that are not particularly kind to the environment if they're not recycled correctly.

One way to keep the power consumption problem under control is to opt for one of the most up-to-date, compact models that are available on sale today. The latest technology and design features on some top models means they use less power than older units yet they still deliver a considerable breath of cold air!
Finding the Top 4 Smallest Air Conditioners
Taking into consideration factors like power output, cost, build quality and overall dimensions, we have searched through all the many latest AC models to narrow down the list to what we consider to be the best four of the smallest or most compact units that can be bought online. It was a task that was not undertaken lightly!

The search covered over 50 models from a variety of manufacturers. It also took into consideration published customer reviews to weed out the bad ones or those that could be considered larger than would be suitable for this review.

The four units listed below can be purchased from Sylvane and they were chosen for their smallest footprint and low weight compared to the many models we tested.

Note: As a Sylvane affiliate I earn from qualifying purchases.

Here's a summary: Those dimensions are as follows (Width x Depth x Height):
Soleus Air PSR-06-01: 12.25 x 13.25 x 29.875 inches : Weight: 52lbs
KingHome KHPA06AK​: 12.4 x 15.6 x 30.3 inches : Weight: 55lbs
AireMax APO110C: 13.39 x 13 x 28.15 inches : Weight: 56.2lbs
Perfect Aire 2PORT10000A: 14 x 13.75 x 27.75 inches : Weight: 53lbs
Now let's take a look at each model in a little more depth:
Soleus Air PSR-06-01 6,000 BTU Portable Air Conditioner
Here is a really compact AC that is perfect for smaller rooms and spaces yet with plenty of cooling power to create a comfortable and cool place where you can really feel the difference!
The Soleus Air PSR-06-01 portable air conditioner is one of those highly affordable and energy-efficient models with multiple modes.

This model is an 6,000 BTU (10,000 BTU ASHRAE) powered unit that is rated to perform in spaces of up to 200 sq ft.

That's ideal for most bedrooms, sunrooms, dining rooms, smaller offices and even basements cool and comfortable.

For extra convenience and efficiency, this AC provides Sleep and Auto modes that cool, dehumidify, or act as a regular fan for when you don't need the full cooling power of it's normal Cooling mode.

In Dehumidifier mode, the Soleus can remove as much as 28.8 pints of water from the air per day. This is a great money saver as it negates the need to buy a separate dehumidifier unit altogether while drying the air and reducing the formation of condensation and mold.

The 2 additional operating modes are designed to save energy and money with additional convenience:
Sleep Mode In this mode, the unit efficiently cools your space while you sleep by reducing the set temperature by a few degrees automatically while alternating the compressor on and off to reduce the sound it creates.
Auto Mode In this mode, the unit automatically chooses the operating mode based on the room temperature. To give you an example, when the room is below 68°F, the AC will just circulate the air in Fan Only mode.

The unit's normal Cool Mode will kick in as soon as the temperature rises above 79°F. Auto Mode chooses the most energy-efficient setting to keep you comfortable.
This model comes with a washable, reusable air filter to remove dust particles from the air for a cleaner, healthier atmosphere. It also has a 24 hour timer and a remote control for total convenience and ease of use.

Click the image above right to visit the Sylvane product page for full details with the current price, free delivery where you can purchase this compact AC unit securely.


KingHome KHPA06AK 6,000 BTU Portable Air Conditioner
For a much more narrow profile to fit into those tight gaps between furniture, this AC unit is a great choice for an inconspicuous cooling appliance that looks good wherever you put it.
This model is another 6,000 BTU (10,000 BTU ASHRAE) powered unit that is rated to perform in spaces of up to 250 sq ft.

With multiple operating modes, this model can create the perfect, comfortable indoor environment for the whole summer. It can be used for spot cooling in larger spaces or a standalone cooler in a smaller room such as a bedroom, home office or even in the attic space.

Not only does it blend into its surroundings inconspicuously thanks to its narrow profile, it runs quietly at a whisper-quiet 53 dB (max) so you hardly know it's there!
Operating Modes
This unit can act as an air conditioner in AC mode, an air circulator in fan-only mode and a dehumidifier when things get too humid.

It can remove up to 2.9 pints of moisture per hour to keep your home feeling dry and comfortable during particularly humid weather.

This single hose AC unit can also partially self-evaporate, removing a percentage of the moisture it creates internally through its exhaust hose to save you the chore of emptying the water tank quite so frequently.

Click the image above right to visit the product page at the Sylvane website for full details and to see the current price with free delivery where you can purchase the unit securely.


AireMax APO110C 10,000 BTU Portable Air Conditioner
For more power in a small package, this unit from AireMax could be just the cooler you've been looking for to cool a larger space yet take up very little of it itself.
The AireMax APO110C 10,000 BTU model is perfect for keeping bedrooms or other smaller rooms of up to 350 sq ft as cool as you need them during hot weather.

This unit is a basic, no-frills cooler that does a great job of cooling a room while remaining inconspicuous. It does it quietly, too, at only 55 dB!

A single hose connects to the included window kit easily, meaning you can be set up and running in very little time.
Operational Modes
It has a fan-only mode for those times when you really only need some cooling air circulation without using the AC function.

It also acts as a dehumidifier to remove excess moisture from the air, capable of taking up to 25 pints out of the air per day.

It can be operated easily with simple controls on its digital LED diaplay or via the remote.

There are two operating speeds and manually adjustable louvers for good airflow direction control. The programmable timer allows you to set the operating time to turn on and off when you choose up to 24 hours ahead.

Click the image to the above right to go visit the product page at Sylvane's website for full details plus a great price with free delivery!


Perfect Aire 2PORT10000A 10,000 BTU Compact Portable Air Conditioner
This compact air conditioning unit will fit into most spaces where it will not attract much attention thanks to its small size.
The shortest model of the four on review on this page, the Perfect Aire stands only 27.75 inches tall and 14 inches wide with a slightly smaller depth.

Don't be deceived by its small stature, though. It is rated at 10,000 BTU (ASHRAE) and can cool spaces of up to 450 sq ft, making it perfect for larger bedrooms, offices and even living rooms when needed.

This deceptively well-featured appliance also features self-evaporating functionality. This means there is no need for bucket emptying under normal operation thanks to its ability to re-evaporate internal condensate and remove it through the exhaust hose to the outdoors.
Operational Modes
This device acts as an air conditioner, a dual-speed fan and a dehumidifier with the capability of removing 3.17 pints per hour from the air, which is perfect for when things become very humid.

It also features an energy saving sleep or eco mode, which is designed for use overnight with a low fan speed, low noise (51 db) and minimal eelectricity use.

The programmable 24 hour timer allows you to set the start and stop time to suit your needs for hands-off operation.

Click on the image above right to visit the Sylvane product page where you'll find all the details, a great price and free delivery too!


Why Choose a Portable AC?
It may interest you to know that even though 75% of the homes in the United States have central air conditioning, there are still millions of homes located in milder or colder climates that are not fitted with central AC. The main reason is that there is simply not enough need for them to be used.

For these homes, compact and portable air conditioning units are a really good way to help the occupants cope with short-term heat waves or get through those few really hot weeks in summer each year.

While not being the most efficient air cooling system available, especially when compared to window units, they do offer the kind of comfort and cooling that is preferable to basic ventilation from a fan.

They are far less expensive to operate than a large central AC system. A major benefit is because they can be easily moved from room to room, you have a greater level of flexibility and convenience when the seasons change.

If an energy efficient window AC is not suitable or desirable in your home, a portable AC is perfectly capable of cooling down a room relatively well. Its efficiency will depend on factors such as climate, the level of direct sunlight entering the room, ambient humidity and room ventilation.
Why Small is Smart
The average portable AC weighs from around 50 - 80 pounds. Despite being marketed as "portable," the weight of them kind of contradicts that descriptive adjective for the appliance.

The units can be moved from room to room, there is no argument there. However the setting up of a smart portable AC can make it more difficult to do that with any ease. The unit's weight combined with the time and hassle needed to set it up, means that most portables end up staying put in the one place they're needed most.

You may wonder why getting the smallest unit really matters. The short answer is that aside from taking up less floor space, smaller units can actually be more efficient at cooling a room.

To quote the US Department of Energy: "In fact, a room air conditioner that's too big for the area it is supposed to cool will perform less efficiently and less effectively than a smaller, properly sized unit."

It goes on: "The reason: an oversized unit will cool the room(s) to the thermostat set-point before proper dehumidification occurs, making the area feel 'clammy' and uncomfortable."

By approaching the situation with a "less is more" philosophy, it turns out that it's often far more of an ideal solution to get the smallest portable AC that will effectively and comfortably cool your room without using up unnecessary excess energy.

The size of the unit you choose should be governed by the size of the room. An obvious example would be where a very small units placed in a large room should not be expected to perform as well as a larger unit, simply because it lacks the brute force cooling power of a larger machine.

The benefits of buying a smaller portable AC:
Better efficiency for cooling bedrooms and small areas
Uses less floor space and weighs less than larger units
Quieter: good quality smaller units produce less noise than larger ACs
Compactness makes for easier storage when not in use
Once again, if the home you live in has limited free space, or the space you need to cool is not large, a smaller portable AC unit is capable of doing a great job of cooling the room while still keeping energy bills down to manageable levels while cutting AC costs.

Now let's take a look at the other alternative; evaporative or swamp coolers:
Swamp Coolers
These evaporative air coolers are excellent in places that have very low humidity, because they can chill a hot room fairly fast.

However, they fall down in high humidity being far less effective as the level of humidity rises, becoming no better than a regular fan at close to 100% humidity.

This is because they cool by evaporating moister internally by blasting warm air through a wet membrane. When the air becomes saturated with moisture, the cooling effect is greatly reduced.

The good news is that swamp coolers (also referred to as ventless portable air conditioners, even though they're not really AC) are cheaper to buy and much cheaper to run than conventional air conditioners.

Please check out our article on the subject by following that link. They don't need to use power to run heat exchanging motors and so only use what their internal fan needs, which is a fraction of what a regular AC unit uses.

In fact, many of the smaller portable swamp cooler units that come on casters will use a very frugal 100-200 watts of electricity (compared to over 2 kW for AC).

The very smallest desktop and handheld units are all swamp coolers (they cool by evaporating water) and some of the smaller ones are even battery-powered. That just shows how little energy these devices need in order to produce a cold breeze to keep you cool.

It is important to be aware that these are not AC devices and as such cannot be expected to produce the amount of cold air and be capable of actually cooling a whole room down as effectively as a window mounted or free standing AC unit.

There are pros and cons to evaporative coolers, but if you live in a fairly dry climate and only need some personal cooling, these small, inexpensive devices are perfect!
Which is Best For You?
Both kinds have their place. If you want cheap air cooling and live in a climate with low humidity, a swamp cooler is a good choice.

If you live with high humidity and heat, you are realistically limited to conventional central or ductless air conditioning and its higher cost of buying and running but at least you'll be cool when the weather gets hot!



Last updated: June 14, 2022


[Back to Top]