If you want to buy the best fully self-evaporating portable air conditioners with heat pump and dehumidifier all in one unit, this review may help you find it!

There are plenty of perfectly adequate portable AC units around to keep you cool in summer.

However, if you want more than just a free standing cooling machine that you can wheel from room to room, but one that can also keep you warm in winter and reduce the humidity level in your home, while not needing to be drained periodically, I have come across some models that do it all!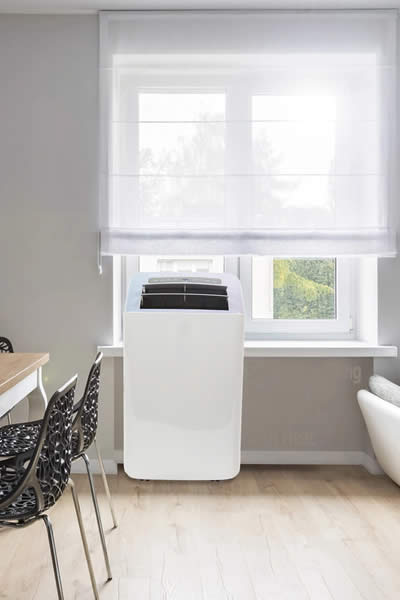 The models I have chosen to feature in this article have great specifications, are of good quality and are reliable and well built.
Is it Better to Buy a Multi-Function AC?
There are some pros and cons to buying a portable, self evaporating air conditioning unit that also heats, and dehumidifies, providing certain advantages over less well feature-rich models. Let's take a look at these:
Pros
Let's take the pros, or advantages of a single, multi-function portable AC first.
From a purchase cost standpoint, you will have to part with fewer dollars for a single, all-rounder unit than for several separate units to do each job. Sure, you can buy a cheap heater in many stores, but cheap usually equates to false economy and it ends up dying on you when you need it most.
One unit takes up a whole lot less space than an AC, a heater and a dehumidifier. This can be a major consideration if you live in a small home or apartment where the available floor space is limited.
Instead of putting away the AC when summer fades and getting out a heater when the weather turns cold, a multi-purpose unit can stay in place all-year round. That saves on the hassle of moving stuff around and finding storage space for the unused unit.
Cons
Now let's look at the cons, or disadvantages of these cooling, heating and dehumidifying units.
The top models tend to be higher output rated and may be viewed as being too powerful for a small room, like a bedroom for example.

However, it should be remembered that these units are "free standing" and designed to be ready to move from one room to another if needed. It may spend some time in a small bedroom, but then be needed in a larger living room where the higher power rating will provide better cooling/heating as needed.
Electricity-powered heaters are more expensive to run than their gas, oil or solid-fuel powered counterparts. A heat-enabled air conditioner may be convenient, but could also prove more expensive to run unless there is a good reason not to make use of these alternative heat sources in your home, such as restrictive clauses in rental agreements, for example.

In such a case, an electric heater may be the only allowed heat source, improving the viability of using a heat-enabled air conditioning unit.
Top Pick Multi-Function Portable AC:
Now for my review of what I consider to be the best portable air conditioner with heat pump that also dehumidifies and is also self-evaporating:
Toyotomi 14,000 BTU Portable Air Conditioner with Heat Pump TAD-T40LW
One of the best, most versatile all-rounder multi-function portable AC's I have ever seen comes from Toyotomi and can be sourced from a top appliance store online such as Sylvane.
This model is a dual hose, 14,000 BTU cooler that is easily capable of cooling up to 500 sq ft. It also dehumidifies the air as it cools or can be used to provide plenty of heat in cold weather.

The TAD-T40LW features a fully self evaporative condensate system that re-uses the condensed moisture to aid the cooling process after which it is expelled through the exhaust hose out of the building. That means no messy water-catcher or drip tray to have to drain periodically, which is a major advantage and hassle-saver!

Here are the main features at-a-glance:
Cooling: 14,000 BTU of powerful cooling takes care of spaces up to 500 sq ft with three fan speeds to suit the needs of the room and how much cooling you want to have.
Fan Only: When the temperature is not so high to warrant using the AC function, but you still want to circulate the air, this auto-fan mode that automatically selects the fan speed depending on the temperature of the room.
Heater: The unit has 11,000 BTU of heating power to keep you warm when the weather turns cold.
Dehumidifier: In addition to automatically dehumidifying the air as it cools , there is a dedicated dehumidify mode that you can select when you don't need the cooling or heat functions active.
24 Hour Timer and Remote Control: use either the unit's control panel or the remote to program the self-timer function to turn the device on or off at certain times as well as set the thermostat temperature and mode settings.
Dual Hose
Why make do with a single exhaust hose when you can have two? Wait, why would you want two hoses instead of just one?

There is a good reason for this. The increased air flow afforded by a dual-hose cooler allows the unit to work more efficiently and economically that a single-hose model.

If this sounds like it's exactly what you want in a cooler/heater/dehumidifier, click the image above right and you'll be taken to the appropriate product page at the Sylvane website where you can get the full spec and buy the unit for a surprisingly low price as well as take advantage of the free shipping offered by that store.

Sylvane is one of the top electrical appliance stores and their after-sales service is among the best of all. This is important for peace of mind when you decide to buy online, you want to be sure you're getting the best service and these guys absolutely give it!

Note: As a Sylvane affiliate I earn from qualifying purchases.
Conclusion
While there will always be a need for cheap coolers or cheap heaters and stand alone dehumidifiers and they all have their place, owning a single unit that is a ″self evaporative portable air conditioner, heater, dehumidifier combo,″ that performs all three functions has many advantages.

The idea could be taken one step further with a WiFi ready smart air conditioning unit for the ultimate in convenience and comfort. While these units are relatively compact, they're not the smallest free standing AC units available, but that's a topic covered in the article I just linked to.

When you're seriously looking for the absolute best fully self-evaporating portable air conditioners with heat pump for a reasonable cost that represents great value, the model I have recommended certainly makes the grade.